Last Thursday 10/23, Joseph and I went with my Mom and brother down to California for my Cousin's engagement party and to visit family and friends. We had so much fun!!! Joseph was a blast and truely enjoyed himself. He was, as always, such a happy baby. We stayed in a hotel and every morning Joseph would get in bed my with my mom and I and would give us hugs and kisses. It was so wonderful and so cute at the same time.
On Friday, we all went to the San Francisco Zoo. The last time I was there was when I was Joseph's age, so I never remembered going. Joseph thoroughly enjoyed himself and was very intrigued with the monkeys and grizzy bears. Joseph and I rode on a mini train through the park and he had so much fun being able to look around. He even said Choo Choo! I'd have to say my favorite part of the Zoo was the Children's petting zoo. There, Joseph petted a couple different goat and even went up and kissed one. He had huge obsession with this metal tractor and kept going back to it. In the sheep yard he was pretending to rake the dirt, but he always kept going back to the goats and the tractor! After the Zoo we drove around the coastal road of San Francisco, through the Presidio and under the bridge. We were slightly lost and got caught in the mad California Rush hour but after an hour and a half of driving found In and Out Burger. It was so good!!!
Saturday was the Engagement Party. It was really nice to see all of my family and for them to meet Joseph. They all thought he was so cute and Joseph had a lot of fun. I got to meet my cousin, Diana's 7 week old baby, Mathew, who ofcourse, was so adorable. We forgot to whip out the camera at the party, but I know my Uncle took a lot of pictures too. It was awesome to catch up with family who most I haven't seen since they came up to Washington for Josh and I's wedding.
Sunday, we did the whole Santa Cruz thing, which if you know me, Santa Cruz is a must see when we go on vacation in California. We went to the Boardwalk where my mom's only concern was Joseph get to ride some of the rides. There was limited ride operation and Joseph wasn't quite old enough for the two kiddie rides, and I was too big to go on with him, so we opted to ride the Merry Go Round. Joseph has rode on many carosels, but this time I rode on it with him. I know I had fun it! =) After the ride I was Joseph' Caricature drawn. Josh and I had one drawn up of us several years ago at the Puyallup Fair so I thought it was Joseph's turn to have a picture of himself. I need to take a picture of it and post it on here! We also got to go on the beach in Santa Cruz by the harbor. Joseph had the time of his life running on the beach with the sand between his toes. My mom says she wishes she had a video camera to capture the huge grin on his face while running around. After Santa Cruz we made our way back over the mountains into San Jose and went to In and Out Burger again. I know I know, a second time, but we don't have that here in Washington so we always take advangtage of it! Afterwards we headed over to my Aunt Diane's house and also got to see my Uncle Rich who wasn't at the party.
On Monday, we went to the Lick Observatory. This was a place that Cody really wanted to go so we all went. The Observatory is on top of the San Jose mountains. Mind you, you have to take a 19 mile curvy road to get up it and it takes about an hour each way to get there! The drive up was fine and the tour was alright, but on the way back down I gave Joseph some water and GoldFish crackers. Bad IDEA!!!! He proceeded to get carsick going through the curvy roads and we had to stop and do a clean up. I just feel bad for Enterprise who has to clean the rental.
Afterwards we went to dinner with our family friend Els and my mom's friend from Highschool and her husband, Georgie and Tom.
Tuesday, we tied up loose ends. We went to my Grandma and Grandpa's graves, visited with my Uncle Paul and went to a local park we used to play at as kid and then headed to the airport. The flight was quick and Joseph did alright heading home. He never fell asleep like he usually does on planes but did decide to kick the seat in front of him numerous times!
Overall we had a nice mini vacation. It was nice to get away for awhile and it was a good refresher. Now I feel completely ready for the upcoming Holiday season and can hardly wait for the what the rest of the year has in store!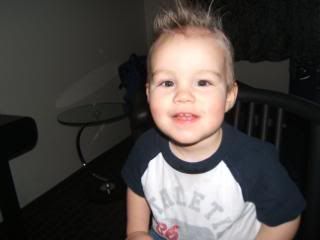 San Francisco Zoo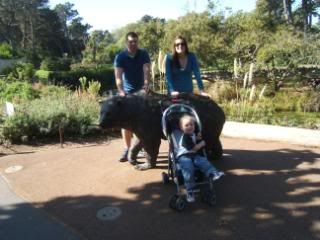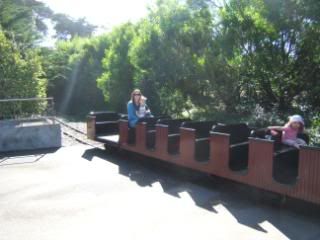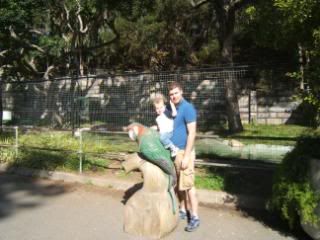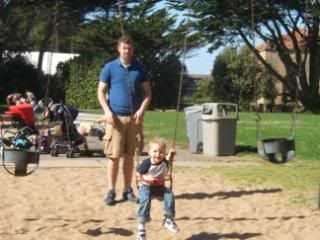 My Mom made us do this one!!!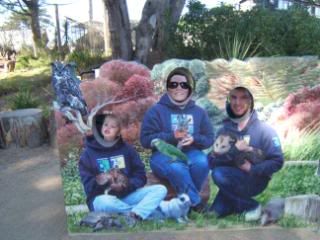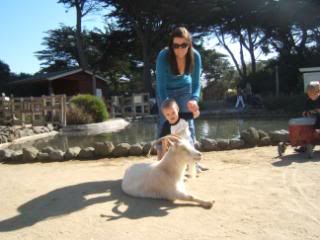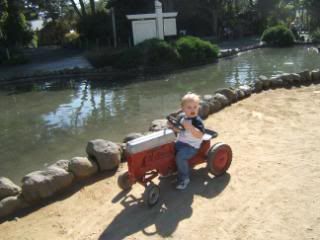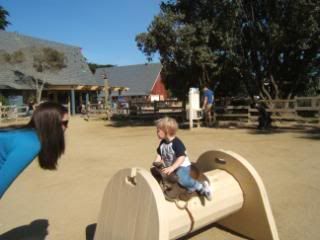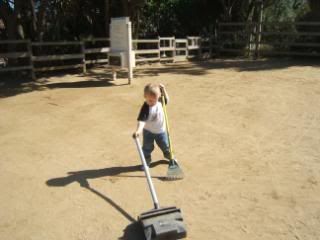 Santa Cruz Beach Boardwalk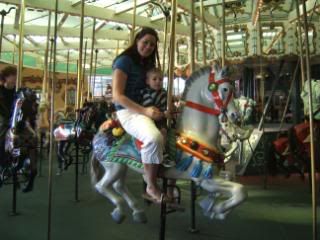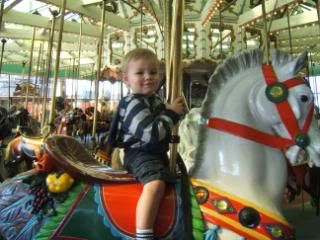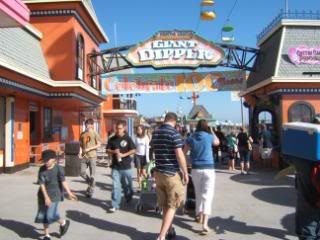 The Beach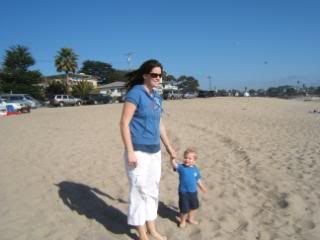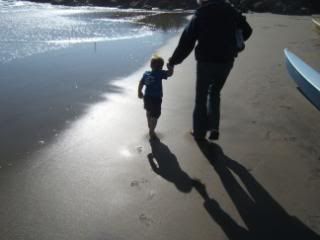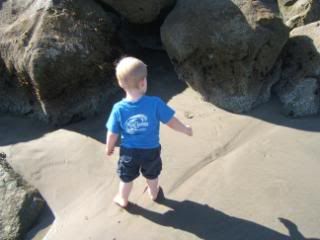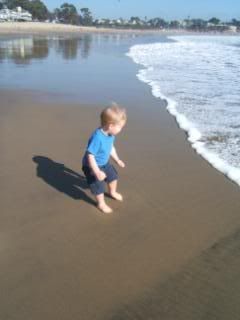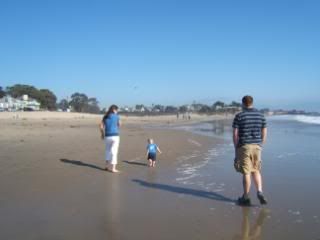 In and Out Burger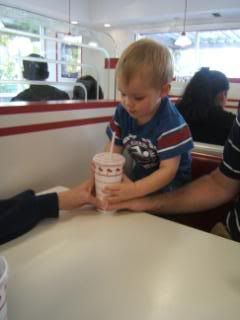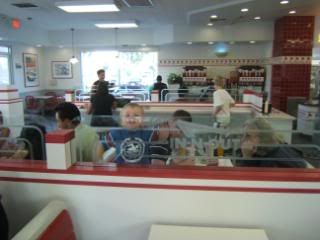 The view from Lick Observatory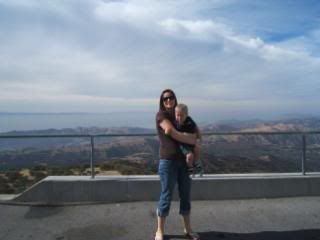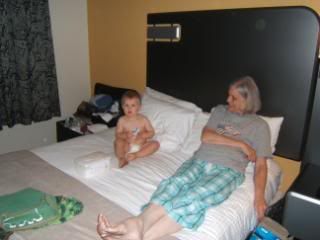 Vasona County Park