Thanksgiving was a blast this year as usual!
We went to both families this year for a double dose of dinner, drinks, and turkey! =)
We have a lot to be thankful for this year.
I have to say I am so proud of my brother-in-law, Zack. You've made it a long ways brother and we couldn't be more proud of you.
The Callon family Turkey day consisted of several flights in Dad's new airplane. He took me around Yelm and I even flew over the local Walmart. Josh took several flights with his Dad. He could only take one person at a time, since the plane is smaller then his other one.
After a delicious dinner we played for the 2nd annual Callon Cup. It became a tradition last year when we played for the cup (A Christmas Bear attached to the base of a Coke Cup) in a Family Jeopardy game. Zack won last year so he was responsible for creating this years game, Pictionary (Callon style). Guess who WON????
ME!!!
Which means I have to make a new game next year. Hopefully I will come up with some good ideas.
We didn't take any family pictures this year at both houses. Whoops. Of course we got pics of Joseph though! =)
Joseph watching Mickey Mouse on Uncle Robb's phone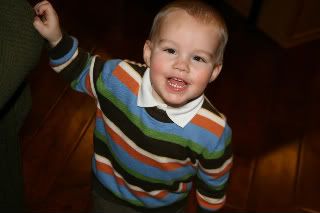 He's got personality