Merry Christmas!!!
It's another year celebrating the Christmas Season and I have to say that Josh and I absolutely love Christmas and all things that come with it. Whether it be snow, lights, egg nog, parties, we can't ever seem to get enough of it and we always find ourselves eager at the beginning of November to roll in the season.
As always I decorated the inside while Josh tackled the outdoors. For the inside I had to modify the decorations since Joey is prone to touching things and being "too curious." You will notice on our Christmas tree that decorations are more on the top part of the tree and also there is the presence of the old baby gate making its debut as a perimeter tree/presents protector. I made the mistake last week of putting some presents down on the outside of the gate and Joey promptly opened them. I learned my lesson.
The outdoor decoration process proved to be difficult and very festive. Josh's competitive nature pushes him to always have the most lights in the neighborhood. When he thought we were done with the lights outside he was swayed differently. After one of our nightly "Christmas light walks" he found several houses had put lights on the second stories of their homes. In our neighborhood it is very hard to get them on the second story b/c of the pitched roofs. Of course that didn't stop Josh from risking life and limb and putting lights up top as well. We even have an unspoken "lights battle" going on with the neighbor down the street. When we put up more lights, they put up more lights. Its funny b/c its not what the season is all about, but none the less Holiday lighting is so much fun!
Here are some indoor/outdoor pictures of our decorations.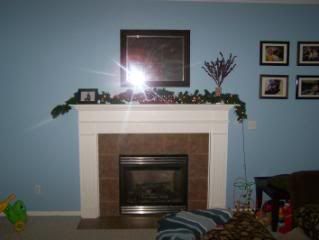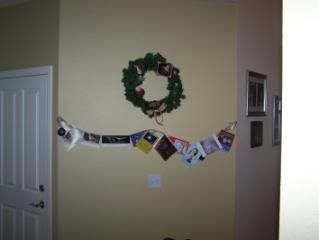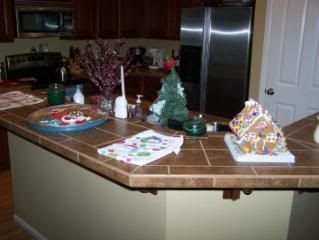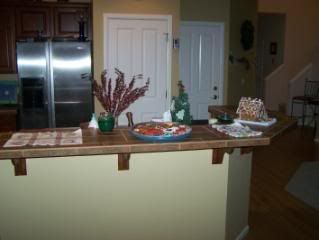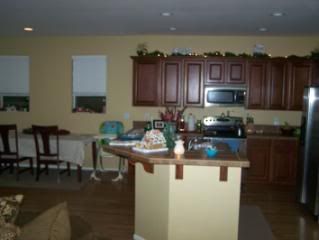 The Outdoor lights pictures aren't as good b/c I found it difficult to take a good picture of it.