Last week Joey and I flew to San Jose, California with my mom and sister to attend my cousin David's wedding and my second cousin Matthew's Baptism.
We went for a long weekend, but let me tell you it was a much needed and nice break.
The weather was beautiful down there. Atleast 75 degrees. They were having a dry spell which looks like they are in for a drought this summer.
The wedding was a lot of fun. Joey enjoyed the DJ's lighting and the music. We danced a lot, mainly b/c me swaying Joey around the dance floor was the only way to hold on to him without him trying to run away.
Joey and I stayed at my Aunt Meg and Uncle Randy's house where my dad had been staying since before we got there. Holly and my Mom stayed at Godmother Els' house. My mom has known Els since her early 20's so she was excited to catch up and hang out with her. Els is Holly's Godmother.
Joey did so well down in California. He was rather rambunctious and from an outsider's perpsective they would have thought he was a crazy ball of energy, but thats what he is like everyday. Tiresome yes, but it never gets old! He slept well in a new enviroment and he got to play at several parks. Its to cold to go to parks here right now, but watching him play and climb and slide made me look forward to this summer with him.
The Baptism went well too. Joey was a little too loud during the actual baptism ceremony so Mommy had to take him outside, but he sure did eat afterwards at the reception!
In all our long weekend was quite nice. We made it out to Santa Cruz and Joey got to run barefoot in the sand. He looks so carefree when he does this and it makes me wish we lived near a nice beach. There are no nice beaches in Washington, there are some good lakes, but those don't really count.
Santa Cruz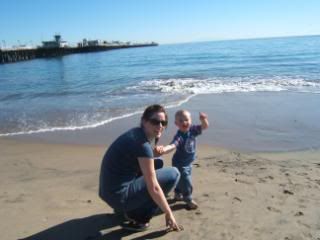 All dressed up at the wedding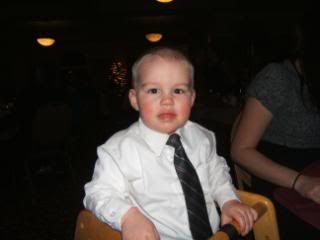 Joey and his cousin Aidan
Joey and I on our way to the Baptism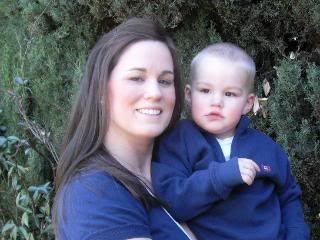 Playing in the park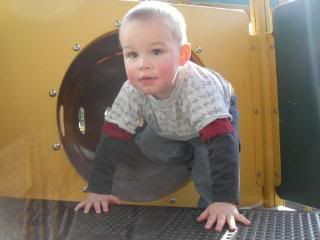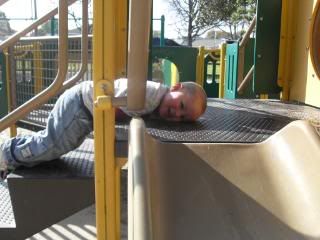 On Georgie and Tom's Motorcycle