Alright! So I know I've been lagging way behind on the blog, but life proves to be busy when your child has entered the TERRIBLE TWO'S!!!! AHhhhh.
Yup Joey is embarking upon the fine line between cute and tempting! None the less I love him so much and he just melts my heart!
Last week Joey had his first fever. I know its weird, but in the near two years we've had him he has never suffered a fever. Needless to say I wasn't sure what to do. A little rest, some baby tylenol, and mom taking his temperature every 15 minutes seemed to do the trick though. The whole week he was pretty cranky and not feeling 100%. I think it had something to do with his molars coming in b/c he even refused to eat, which if you know Joey, it is weird! =)
This week he is back to his old self. Thank goodness! It seems as if in the past two months Joey has just blossomed from a little baby to a young boy. The other day I was releasing some of my mommy fears to my friends about him not talking very much, but of course in the past day or so he has just been a chatter box. (Just like his mom)
To date here is a list of words he can say....
Mommy, Daddy
Papa (Grandpa), Holly (Howie)
Cody, Zack (Sack)
Toes, choo choo
poo poo, pee pee
keys, please (peas)
air plane (ee peene), Elmo
blast off, cookie
lunch (munch), night night
tuckie, blankie
Georgie (Jorey), Kitty
Puppy, Off
baby, juice
purse, amen
excuse me (scoooozzzeee) (complete with hand covering the mouth)
ears, nose
Looking at this list is unbelievable to me! Sometimes its easy for me to overlook some of his accomplishments b/c they all come at once but I am so proud of him. Lately he has been showing ready signs of potty training. He tells me after the fact what he has done in his diaper. We've worked on the potty but he is more interested in the bells and whistles of the potty then actually using it. Oh well! =)
One of the cutest things that Joey does is that at 8:45am and 3pm he goes to our door/window and waits for the school bus to come and pick up/drop off the kids that go to school. He will knock at the window and get really excited. Sometimes he forgets to go to the door, so when I hear the bus pull up I always say Joey the bus is here and he goes running to the door!
Joey has taken after many of Mommy and Daddy's characteristics. His caringness is evident when we lay down before bedtime and he makes sure that I am covered in a blanket. Its funny b/c I do the same thing at night when I notice Josh doesn't have blankets on. It could be the middle of summer and I will still cover him with blankets.
His lovingness comes from his dad. He knows just the right time when I need a big hug or one of his many cell phones. =) Joey is also Mommy's little helper. He puts his sippy cup and bowls in the sink for me and I never have to ask him to do it.
All in all I can't believe that Joey is almost 2. I know its cliche, but it seems just like yesterday when we brought him home from the hospital. I get sad thinking of how fast the time has gone by, but I also look forward to what the future holds for Joey.
Playing sick baby in Daddy's chair
Carrying his "purse"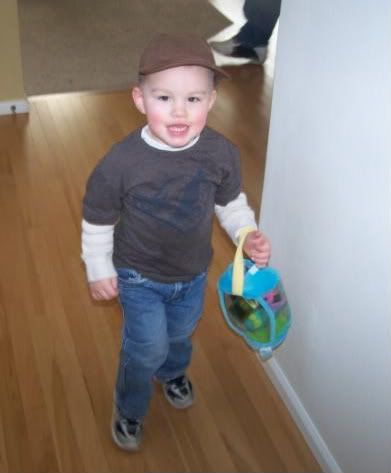 My darling Joey
Waiting for the school bus